Elbow's journey from college to 'band of the people'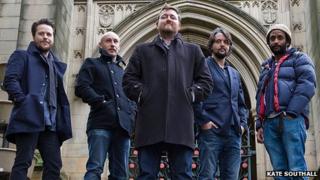 Greater Manchester music stars Elbow, who have been chosen by the BBC to provide the soundtrack for London 2012, have had a long and winding journey to the Olympics.
The band spent 2011 not just touring their fifth album, Build A Rocket Boys, but celebrating their 20th birthday as a band.
They started out at Bury College in 1991, where a meeting between singer Guy Garvey and guitarist Mark Potter led to Guy being asked to join Mark, bass player Pete Turner and drummer Richard Jupp in their band.
Soon after, Mark's brother Craig on keyboards joined the fold and Mr Soft, Elbow's first incarnation, was formed.
After dropping the Mr to become Soft and then opting for Elbow - allegedly because of how the word is described as "the most sensuous in the English language" in Dennis Potter's The Singing Detective - the five gradually moved musically south from Bury to nearby Manchester.
'Thoroughly decent'
Liam Walsh, a prominent record plugger and promoter in the city who had worked with the likes of Oasis, Pulp and Bjork, first heard about them through his brother, who had known Guy at school.
He said he was instantly impressed by what he heard.
"I remember listening to Elbow and just loving their sound - they weren't trying to be like other Manchester bands around at the time," he said.
"I saw Elbow playing at In The City [Manchester's international music convention] in 1998 at the Night and Day and that felt like the start of their career.
"I got to know the band - in particular Guy and Pete - they were always out and about and at the same gigs; I couldn't get over just how decent they were."
He said there were several reasons why he thought the band had gone onto such wide success.
"Apart from being thoroughly decent people, they are incredibly talented musicians, hard working and resilient," he said.
"They can also write a classic song, with emotional lyrics that touch people, and you can hear Guy singing every word in his warm Manchester accent.
"I remember being on a train with them before they were successful, saying I couldn't believe their songs were not being used in films, TV and adverts - how things have changed."
An orchestral move
A decade on from that In The City show - and seven years on from their first nomination - Elbow won the Mercury Music Prize with their fourth album, The Seldom Seen Kid.
Buoyed by the success, the band set about putting together a gig with the Halle Orchestra for 2009's Manchester International Festival.
Composer and arranger Joe Duddell was on hand to help the two come together, which he said was simpler because Elbow's music "is cinematic in its scope".
"It's big, broad gestures, rather than lots of tiny little details," he said.
The resulting concert showed just how well the band could connect with the public, as a free relay onto a big screen of the Bridgewater Hall show drew thousands to the Castlefield Arena to sing along in the open air.
It was a public display of what the Mercury had underlined - Elbow had made it to the big time and into the public consciousness.
The composer said that this fact had not changed the band as "they are pretty grounded people".
"They've been called 'the band of the people', which they probably hate, but there is an underdog spirit to them, because they have been going so long and because they've had trouble with labels before finding success," he said.
As for what the future holds - and in particular, the Olympics - he said he was "not privy to the band's movements".
However, he said that given the nature of the band, "it wouldn't surprise me if they have something special up their sleeves".