Basil D'Oliveira: Middleton remembers cricket great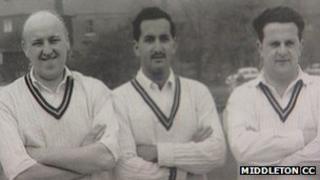 As memorial services for cricket legend Basil D'Oliveira are announced in both England and South Africa, a corner of Greater Manchester has been doing some remembering of its own.
When the future international star arrived in Britain in 1960, it was not to play for a county side, but for the Middleton club in the Central Lancashire League.
There, they have been flying the flag at half-mast since his death on 18 November as a mark of respect for one of their greatest ever players.
After being told apartheid law meant he was not allowed to play at the top level because of his race, Basil D'Oliveira left South Africa.
He had been encouraged to go to England by BBC cricket journalist John Arlott, who had set about trying to find him a team.
Having exhausted all avenues in the county game, where rules about the number of overseas players allowed in the English game meant there was no place for him, the commentator found a place for the batsman in Middleton.
Dressing room shock
The side invited the South African to join them after their original choice for the club professional, West Indian bowler Wes Hall, pulled out of his move.
His former teammate Paul Rocca said he was very keen to play for the side.
"He said that if there was any chance of playing Lancashire league cricket, he would love to come," he said.
The world D'Oliveira found when he arrived was very different from the one he had left behind in the southern hemisphere, something which Mr Rocca said was down to one thing.
"I came out here on the first day he came here and we met at the door," he said.
"He said 'where is my dressing room?'.
"He could not believe that he was allowed to change [with us].
"I said 'that's your hook, this is my hook, you change there and then we'll go out and practice."
The batsman's disbelief stemmed not from the fact he had to share with amateurs, but because in South Africa, he had been forced to change in a different dressing room to the white players.
'Soft spot'
Dolly, as he became known, was seen by some as a brave choice for the club, as he was relatively unknown outside South Africa, but the club and the town soon took him to their hearts.
Mr Rocca said the feeling was mutual and that the batsman, who represented England in 44 Tests, scoring 2,484 runs at an average of 40, was "so happy, he would have stayed here".
Fellow teammate Wally Marsh said that such was D'Oliveira's devotion to the side that those in charge of the club had to force him to play at a higher level.
"He wanted another contract here," he said.
"The committee said to him, 'look Basil, you're a better player than that, you can go and play county cricket'."
As a result, the future international joined Worcestershire in 1964 and left Middleton, though he never lost touch with the town or his former team.
Mr Rocca said he "always had a soft spot for Middleton".
"I do believe that Middleton owe him a lot," he said.