Nellie Geraghty death: Family appeal for ashes return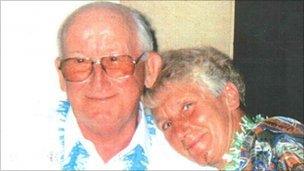 The family of a widow who died after an apparent mugging have appealed for the return of her late husband's ashes which were stolen during the robbery.
Nellie Geraghty, 79, died in hospital a day after being found with head injuries in Shaw, Greater Manchester.
Police, who have begun a murder inquiry, think she was hurt as she tried to stop her handbag containing the ashes being taken.
Two boys aged 17 and 14 have been questioned and bailed until 9 January.
Mrs Geraghty died on Friday at Oldham hospital, a day after being found just before 1200 GMT near her home on a path at the junction of Kershaw Street and Victoria Street.
Her stolen handbag contained the ashes of her late husband Frank, who died 17 years ago.
The handbag, which also contained £200 in cash, was taken but the strap was still clasped in the hand of the pensioner, who is thought to have put up a struggle.
Her family said that Mrs Geraghty had carried the ashes everywhere with her and wished to be cremated with them so they could be scattered together on Mr Geraghty's allotment.
The ashes were secured in a small box in a blue velvet drawstring bag.
Mrs Geraghty's sister, Maureen Barrow, 67, said: "That has always been our fear, that one day her bag would be stolen because basically she wouldn't have wanted to carry on living unless he was there.
"This is why she put up such a fight. The money that was in the bag, she would have given it to them no problem. She would have let it go.
"Her husband's ashes had been with her for 17 years. This is why she put up such a fight. For Frank she laid down her life."
Appealing directly to those who took the ashes, she said: "They know where the ashes are and what they have been doing with them.
"Please get them back to us somehow by phoning us, phoning the police, leaving them somewhere where someone will find them.
"We just want the ashes back so that she can be cremated with Frank. To the people in Shaw, we ask that they please check their gardens, outhouses, sheds, ginnels, bins, anywhere.
"We need your help to convict the thug or thugs that have done this to Nellie."
The former school cleaner and cotton mill worker was married for 42 years, had four children, four grandchildren and three great grandchildren.
Related Internet Links
The BBC is not responsible for the content of external sites.