Greater Manchester bus scheme confirmed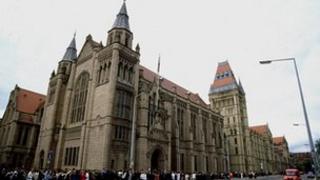 A £54m plan to reshape cross-city travel in Greater Manchester is to get government cash, Chancellor George Osborne has confirmed.
Among the features of the scheme will be the first direct bus link between Salford and South Manchester.
A section of Oxford Road will also be closed to cars as part of Manchester City Council's "green corridor" plan.
And a £11.5m transport interchange in Rochdale also won funding in the chancellor's Autumn Statement.
The Cross City Bus scheme, developed by Transport for Greater Manchester (TfGM) with Manchester City Council, Salford City Council and Rochdale Metropolitan Borough Council, will provide a package of improvements along three major bus routes.
They are: Boothstown to Manchester via the A580 East Lancashire Road and A6 Broad Street/Crescent/Chapel Street; Middleton Bus Station to Manchester via the A664 Manchester New Road and Rochdale Road; and East Didsbury to Manchester via Wilmslow Road and Oxford Road/Street.
Part of the scheme will see the banning of cars from the section of Oxford Road between Grosvenor Street and Hathersage Road, which takes in Manchester's two universities and major hospital complex.
Manchester City Council flagged up its "green corridor" scheme in 2009 when it announced Manchester: A Certain Future, its plan to reduce the city's carbon footprint.
Cars will also be prohibited along a section of Princess Street near Manchester Art Gallery and two roads near Piccadilly Gardens.
Councillor Andrew Fender, chairman of the TfGM Committee, said: "This scheme will play a crucial role in improving the journey times and reliability of bus services for parts of Salford, Middleton, North Manchester and South Manchester."
The new interchange in Rochdale will replace the current bus station on Smith Street and will incorporate the Metrolink tram system.
It will use hydropower from the nearby River Roch to provide its electricity.