Rooney blackmail trial: Steven Malcolm 'waited' for cash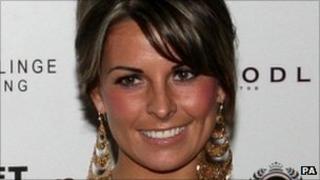 A man accused of blackmailing Coleen Rooney waited "in anticipation" as £5,000 was counted in a hotel bar, a court has heard.
But Steven Malcolm was then arrested after handing a memory card to an undercover police officer, Manchester Crown Court heard.
It contained 400 photos of Mrs Rooney, her husband Wayne and their family.
Mr Malcolm, 42, and Jennifer Green, 25, from Manchester, deny charges of blackmail and handling stolen goods.
Both were held after Mrs Rooney's phone went missing at a Black Eyed Peas concert at the MEN Arena in Manchester in May 2010.
The defendants, along with Ms Green's partner Lee Platt, are accused of being in on the plot after Manchester United were called and £5,000 demanded for the return of the photos.
Meeting arranged
But the police were called in and an undercover officer agreed to meet to do the deal.
The officer, known as PC James, posed as a business representative of the Rooneys and Manchester United, willing to hand over the £5,000 for the photos.
On 10 September last year, he arrived at the bar of the Marriott Hotel in Manchester with a second undercover policeman and waited until Mr Malcolm walked into the hotel.
The witness told the jury: "He placed a black lever-arch folder on the table and a 4GB Sony memory stick."
The officer put the stick into his laptop and saw the photos of the Rooney family.
The folder contained 11 pages of thumbnail photos of the Rooneys taken from the memory stick.
PC James said: "My colleague produced a quantity of money, which was £5,000. He started counting it."
The officer told the court he moved seats and used the laptop to shield what was going on because "we were counting money in public, a large amount of money".
Mr Malcolm, at this point, "sat forward, watching the money being counted in anticipation", the witness said.
But other officers were then alerted and arrested Mr Malcolm, from Silkin Court, Manchester, before he received any money, the jury heard.
Iain Johnstone, defending Mr Malcolm, suggested the defendant did not know much about the deal and was only following orders from his "boss", Lee Platt.
Analysis of the folder showed the cover and pages had fingerprints from Platt and Ms Green, Ms Green, of Heaton Park Road, Blackley.
Platt, from Manchester, pleaded guilty to charges of blackmail and handling stolen goods at an earlier hearing.
The trial continues.