Steven Malcolm admits Coleen Rooney blackmail plot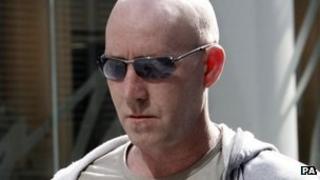 A man has admitted trying to blackmail Coleen Rooney - the wife of Manchester United footballer Wayne Rooney - for £5,000 over stolen personal photos.
Steven Malcolm, 42, of Manchester, changed his plea to guilty after giving evidence on the third day of his trial at Manchester Crown Court.
Malcolm admitted handling stolen goods and blackmail. He claimed he acted as a "middle man" for his boss, Lee Platt.
His co-accused, Jennifer Green, 25, denies both charges.
Malcolm worked as a handyman for Platt at his furniture business in Manchester.
He said Platt, who has already admitted blackmail, was a "gangster" involved in the plot and he only passed on information to arrange handover of the photos for cash.
Malcolm was subsequently arrested by undercover officers in a police sting at the handover meeting in Manchester in September last year.
Mrs Rooney had her digital camera stolen while watching a show at the MEN Arena in May 2010.
'I was misled'
The photos were touted for money to newspapers and magazines before Manchester United was contacted with the £5,000 demand for return of the photos.
Under cross-examination by Deborah Gould, prosecuting, Malcolm eventually accepted he participated in the offences.
The defendant admitted having telephone contact with an undercover police officer posing as the Rooneys' representative, to arrange the meeting to hand over the goods and to pick up "an envelope".
"You accept participating in these offences?" Ms Gould said.
"Up to an extent yes. My boss is trying to blackmail him, certainly, I knew that," Malcolm replied.
"Then why are we here Mr Malcolm? Why on Earth here, on trial, if you accept participating in the blackmail?"
"Maybe I was misled, Mam," Malcolm replied.
"All I'm doing is exchanging information from my boss to Wayne Rooney - his agent."
Malcolm said he thought he was simply doing a favour by returning goods to their rightful owner so they did not fall into "criminal hands".
The defendant claimed he was expecting to pick up an envelope after a deal was agreed.
Malcolm suggested he thought the envelope might contain "two or three tickets to Old Trafford".
After a short adjournment, Malcolm changed his plea and guilty verdicts were formally returned by the jury.
He will be sentenced, with Platt, after the conclusion of the trial of his co-accused, Jennifer Green, Platt's business partner and girlfriend.
She denies both charges.
The trial continues.