Girl with ovarian cancer 'gets pregnancy diagnosis from GP'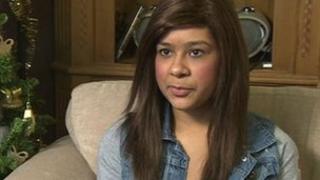 A GP mistakenly told a girl with ovarian cancer that she was pregnant, the teenager's family have said.
Phoebe Quatre-Morgan, now 17, went to a doctor in 2010 after returning from the Seychelles with stomach pains.
The GP first diagnosed constipation, before telling the Bolton teenager she was five months pregnant and may have miscarried, her family said.
An ultrasound scan later revealed a tumour and she underwent chemotherapy treatment and a hysterectomy.
Ms Quatre-Morgan said the pregnancy diagnosis in 2010 had left her upset. She added the doctor should have considered "the worst scenario".
NHS Bolton said it was "unaware of Phoebe's case", but would "look into information that we have with the GP practice".
The teenager said that on visiting the practice, the GP "felt my stomach a bit and decided from that that I was pregnant".
"She told me I was quite far gone and wouldn't listen to me when I said I couldn't be," she said.
"I got so upset that I left the room. While I was gone she told my mum that I had probably miscarried and that teenagers were very good at hiding pregnancies.
"It was difficult because, as she was a professional, my mum believed the doctor over me.
"The next day I was sent to hospital for a scan; they found a lump in my stomach and I was told I had to stay in."
'Difficult to detect'
Ms Quatre-Morgan was diagnosed with ovarian cancer and had to undergo several months of treatment at Bolton Hospital and The Christie in Manchester.
After being told she was clear of cancer in February, she was called back into hospital in March when doctors found it had returned.
Her second round of chemotherapy treatment ended with her having a hysterectomy. She has now been given the all-clear.
She said she was relieved to be getting better, but wished that she had been listened to in the beginning.
"It's a difficult cancer to detect, because the side effects are not obvious, but I think they should have looked at everything," she said.
"Sometimes it is the worst scenario and not just something simple that they can send you home with some medication for."
However, she said she was not angry with the GP and that "apart from the doctor at the beginning, everyone I have met along the way has been absolutely fantastic, especially the staff at The Christie".