Woman admits handling stolen Rooney family photos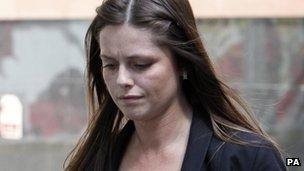 A woman has admitted handling photos belonging to Coleen Rooney in a £5,000 blackmail plot.
Jennifer Green, 25, admitted knowing her boyfriend and business partner had the stolen photos.
The pictures were touted around newspapers and magazines before being offered to the Rooneys at a price, Manchester Crown Court heard.
Green had denied blackmail and handling but admitted handling on the third day of her trial.
The blackmail case against her was dropped and the jury ordered to formally return a not guilty verdict.
Green admitted her involvement in retaining the photos which included family pictures of Mrs Rooney, her footballer husband Wayne, their son Kai, and other family members.
Prosecutor Deborah Green prosecuting said none of the photos were "compromising".
The defendant also admitted putting prints in a folder, ready to hand over in return for cash when a deal was agreed with the Rooneys.
The prosecution accepted she was "further down the chain" and that she did not know the pictures were going to be used to demand money from Mrs Rooney.
Green's boyfriend and business partner Lee Platt, and Steven Malcolm, both admitted blackmail and handling.
Platt and Green acquired the memory stick from Mrs Rooney's digital camera which was stolen while she was at the MEN arena on 24 May.
They tried to sell the photos to the press before contacting Manchester United demanding £5,000 for return of the goods.
An undercover police officer contacted them and agreed to hand over the cash.
Malcolm, 42, was arrested as he arrived to hand over the camera memory stick and folder of photos in payment for the money.
He was on trial jointly with Green but changed his pleas to guilty to both charges on Wednesday.
The trio are due to be sentenced on 30 January.
Related Internet Links
The BBC is not responsible for the content of external sites.