Bishop says Manchester and Salford riots 'different'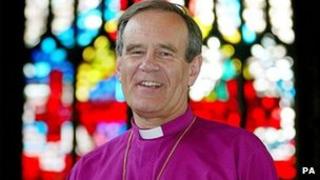 The Bishop of Manchester has said the August riots in Manchester and Salford did not have the same motivations.
The Right Reverend Nigel McCulloch said while in Manchester, "looting was at the heart of it, in Salford, there was a bit more anger behind it all".
Speaking as part of a Christmas Day broadcast on BBC Radio Manchester, the bishop said reasons why the riots happened were "very, very complex".
"Anyone who tries to be simple about the reasons is being a fool," he said.
The riots in Manchester and Salford on 9 August followed trouble in London on the previous night.
Bishop McCulloch said that he thought there had been a "copycat element" to the trouble, but that there was a moral issue to be considered too.
"There's the issue of the gap between rich and poor and the feeling that it seems OK for some people to have loads of things but if you are at the wrong end of the pile, you don't get them," he said.
"We live in a very consumerist society, a 'me first' society.
"I think the awareness of what the difference is between right and wrong is something which seems to be increasingly lost in the upbringing of many of our people."
The bishop said the presumption that only those with less money had been involved in the riots was simplistic as "there were a lot of people in very deprived parts of our cities who did not riot".
He added that, regardless of the causes, the night of trouble had been a "very unhappy and unfortunate episode in the lives of both cities".