Man dials 999 to ask about defrosting turkey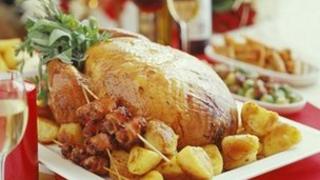 A man dialled 999 to ask police how long it would take to defrost his Christmas turkey.
Greater Manchester Police (GMP) have released details of the call in a bid to deter others from wasting their time with less than genuine emergency calls.
It comes in the run-up to New Year's Eve, the busiest night of the year for officers.
Other examples of the 999 number being misused are people asking for directions or a lift home.
Callers have also asked operators where the nearest restaurant is or wished police a Happy New Year.
'Threat to life'
In the call about the turkey, a man asked: "How long do you defrost a turkey for?"
The disgruntled call handler then told the man they would arrange to have his phone blocked before asking if he had a "genuine emergency".
The man replied: "It is an emergency. Do I take the giblets out before I defrost it?"
On average GMP handles 1,400 emergency calls each day, but last New Year's Eve there were 3,228 - more than twice as many.
Diane Grandidge, GMP's business lead for call handling, said: "The 999 number is only to be used in emergencies where there is a threat to life or property or a crime in progress.
"I would therefore urge people to think carefully before dialling, as that way we can focus our efforts on real emergencies.
"With our busiest night approaching we are preparing to receive thousands of emergency calls, and silly pranks or thoughtless requests for assistance can have a major impact on those who need a fast police response.
"We don't want there to be any delays in dealing with genuine emergencies because of non-emergency calls to 999 or, worse still, deliberate jokes."
For general inquiries or to report less urgent crime or disorder, people should call 101.