Manchester derby FA Cup police to wear full riot gear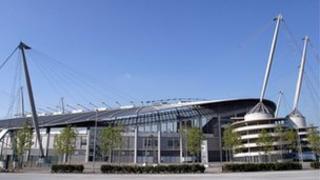 Most police officers will be wearing full riot gear for the Manchester City-Manchester United FA Cup tie on Sunday, Greater Manchester Police has said.
The match at the Etihad Stadium is classed as a Category C game - the highest security grade for any football match staged in the city.
A police spokesman said fans should be reassured by the measure.
"It is a big day for the city and we want to make sure that everyone enjoys it," added the spokesman.
The spokesman said: "A significant number of officers will be in full riot kit.
"If trouble breaks out, the officers will be prepared for it."
The spokesman said the game was Category C status because the 5,700 ticket allocation for United supporters meant there was a higher than average away crowd.
Last year's FA Cup semi-final between the clubs at Wembley saw more than 30 arrests, while a police officer was partly blinded in Manchester in April 2010 after trouble broke out following a game between the clubs.