Facebook defendant Jamie Sewart has money forfeited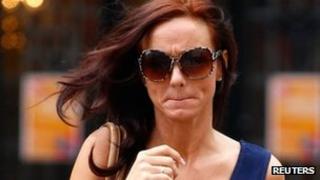 A defendant who made Facebook contact with a juror during her trial has had money seized at her home forfeited.
Jamie Sewart, 33, of Henrietta Street, Bolton, was investigated for alleged drug offences in 2010 and police seized £6,800 found hidden under her bed.
A hearing in Manchester ruled the money be forfeited after police argued Sewart had no legal way of possessing it.
During her trial in August 2010, it was discovered Sewart had contacted juror Joanne Fraill.
Sewart was given a two-month prison sentence, suspended for two years, after being found to be in contempt of court.
Fraill was given eight months in prison following a trial in June.
The Proceeds of Crime Act hearing on Tuesday found that the money police had found in their original investigation of Sewart had probably come from her co-defendant boyfriend Gary Knox.
It was argued that Sewart had no means of legitimate income to explain how she came to have such a large amount of money.
Knox was found guilty of paying a police officer to disclose information on drug dealers and was sentenced to six years last year.
Speaking of the forfeiture, Det Con John Townsend said the ruling proved "the old mantra that crime does not pay really is true".
"I want to send a message to not just the law-abiding members of our communities but also criminals that if you do get involved in criminality, we will not just take away your freedom but your means as well," he said.