Great Lever arson attack: Mother's appeal over deaths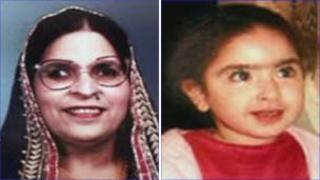 A woman whose daughter and mother were killed in an arson attack in Bolton has appealed to those responsible to "search their consciences."
Alana Mian, four, and Hameeda Begum, 71, died after a bin was set alight outside the door of Mrs Begum's home.
No one has been convicted of causing their deaths.
Saima Mian, who had been visiting from Australia with her daughter, has returned to the UK for the first time since the deaths on 23 June 2008.
Her doctor had advised her to return to help in her recovery.
"Everyone says that time will heal, but I don't know," she said.
"You can't tell how much time it will take.
"For me three years is not enough."
Mrs Mian, who suffered serious burns in the fire, said she suffered insomnia for about a year after the fire. She remains on medication.
'Please help me'
She said she could not comprehend why someone had chosen to target her family.
"I just want to know why," she said.
"I don't know who they are and why they would do that. We were friendly with everyone in the community.
"It makes no sense to me."
In a plea to anyone who knew who was responsible, she said: "Please come forward, please help me."
"Have a conscience and speak up."
The fire also seriously injured firefighter Steve Morris. He suffered burns to 50% of his body in the attack.
Three people have been sentenced for witness intimidation in connection with the case.