Review granted over soldier's 'friendly fire' death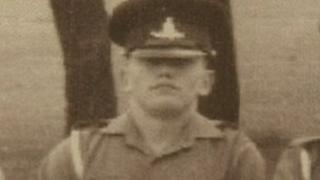 The family of a soldier killed in a so-called friendly fire incident in 1972 have been told events around his death will be reviewed.
Gunner Robert Cutting from Blackley, Manchester, was shot four times by a colleague while on patrol in Belfast.
His sister Irene Pratt said the family had "a lot of questions".
The review is part of a wider re-examining of service deaths during the Troubles by Police Service of Northern Ireland's Historical Enquiries Team.
The PSNI was unavailable for comment.
Mrs Pratt said her family was "absolutely devastated" when the news of Gunner Cutting's death reached them, particularly as it "was one of our own that killed him".
"We are a service family - my father served in Royal Marines and my husband was in the Royal Fusiliers," she said.
When the family were unable to get the answers they wanted from the original investigation into Gunner Cutting's death, Mrs Pratt said her father had begun "a quest".
However, she said "he got nowhere, because of the Crown immunity status", which barred the release of any documents pertaining to service personnel during the Irish conflict.
"Even on his death bed, he said 'get justice for our Robert'," she said.
"So that's what we've tried to do in the years since - we've got a lot of correspondence, but we've got nowhere.
"I want closure, I want retribution - somebody took my brother and I want to know what happened to the person that shot him.
"Not a day goes by that I don't think about my brother."
'More questions'
She said that her parents had been treated in a "disgusting" way by the Ministry of Defence.
"We got a letter saying they regret the death but as far as compensation goes - which was never mentioned by us - they could have a pound a week and that would be means-tested.
"They were disgusted and devastated - they'd lost their only son."
Mrs Pratt said that the family had recently been given the coroner's report, which ruled her brother's death as "accidental", but that it had "raised more questions than it answered".
"In fact, it made things worse, because there was a lot of things in there we were never told.
"It says he was shot four times, which the Army never told us, and that he was on the ground - how can that be accidental?"
She said she was pleased the case was being looked at again, but that she would not be satisfied until she had the Ministry of Defence's Board of Inquiry report into Gunner Cutting's death, which she said she had been told "has gone missing".
"When I can look at it and digest it, maybe then we will get closure," she said.