GMP Chief Constable Peter Fahy in commissioner U-turn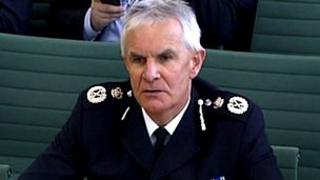 The chief constable of Greater Manchester Police is now backing plans for an elected police commissioner despite initially expressing doubts about the role.
Peter Fahy said the government had now allayed his fears about the job of the commissioners, which will be elected across England in November.
The 40 commissioners will replace local police authorities.
Mr Fahy added that he still wanted to see how the plan will work in practice.
Mr Fahy said it was vital that operational independence was safeguarded, along with having the right balance between local policing and national objectives such as terrorism and organised crime.
"It is the politicians that set the priority and policy overall and that is absolutely right, what we don't want is their getting into day-to-day tactics," said Mr Fahy.
The police commissioners will replace local police authorities as the political overseers of their local constabulary.
Their powers will include hiring the chief constable and setting the council tax precept for their force.