Manchester teenager 'sneaked' on to Afghanistan front line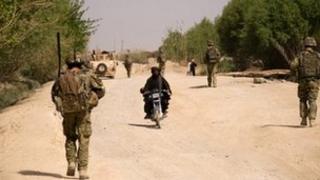 A 17-year-old soldier from Manchester lied about his age to "sneak" on to front-line battles in Afghanistan.
The Ministry of Defence (MoD) said Adam Wilkie was 17 when he managed to bypass checks and go into battle.
Combat troops are supposed to be 18, but the Army admitted "human error" led to Kingsman Wilkie being allowed to take part in several firefights.
The MoD said the lapse in 2010 was "extremely rare" and that it had taken action to prevent it happening again.
Kingsman Wilkie, of the Second Battalion the Duke of Lancaster's Regiment, was stationed with reserves in Cyprus when he lied about his age to make it into combat in Afghanistan.
An MoD spokesman said: "The fact that an individual aged 17 years and nine months was sent to an operational theatre is regrettable, and goes against stated MoD policy.
"Our processes are robust and this extremely rare situation was down to human error.
"The Army has taken action to try to ensure that this does not happen again."