Bolton One leisure and health centre opens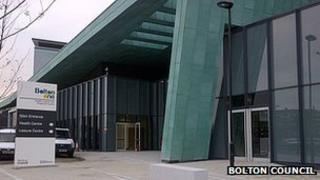 A £30m health, leisure and research centre has opened in Greater Manchester.
Bolton One incorporates a swimming pool and fitness suite, a doctors' surgery and outpatient centre, and the University of Bolton's Centre of Excellence for Health and Wellbeing.
It is a joint project by Bolton Council, NHS Bolton and the university.
Bolton council leader Cliff Morris said the centre had been "on the drawing board for five years".
He said the centre was "a big deal for the people of Bolton and that the council had "put money aside and built up reserves" to pay for the project.
"We closed a leisure centre within the town centre, so the money from that has gone into this as well," he said.
Leisure facilities available at the new centre include a swimming pool with seating for 250 spectators, a hydrotherapy pool for people with disabilities and a community gym, while the health services will supply outpatient services such as breast screening, orthopaedics, rheumatology and radiological and therapy support.
The university's centre houses a rehabilitation suite, sports injury clinics and teaching rooms, alongside a sports centre and climbing wall.
Mr Morris said the project showed "how different organisations can work together to make something that is impressive for the town".
He added that the centre was "about improving the health of the people of the borough, but also about fun as well".