Rochdale takeaway disturbances 'misjudged'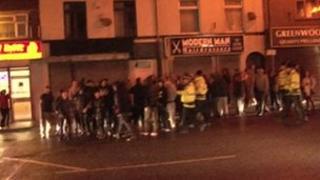 Police have said a disturbance which targeted a Greater Manchester takeaway was "misjudged and against innocent members of the community".
The windows of Tasty Bites on Market Street in Heywood, Rochdale, were smashed after about 100 youths gathered outside on Thursday.
An officer was injured when police were pelted with bricks and missiles as they tried to control the crowd.
Police said there were local "tensions" over a continuing child-sex court case.
The disturbance followed a protest by about 80 people, who police said were "voicing concerns in relation to some of the incidents that have been reported".
The police officer suffered bruising to his arms and legs. Three vehicles, including two police cars, were damaged.
A 35-year-old man was arrested on suspicion of assaulting a police officer and a public order offence.
A 14-year-old was arrested on suspicion of causing danger to a public highway.
'Tight united community'
Eleven men are currently on trial for alleged child-sex offences in and around Rochdale in 2008 and 2009.
It is alleged the Tasty Bites takeaway was a meeting place between girls and one of the defendants. The takeaway is now under new management.
All the men deny conspiracy to engage in sexual activity with children under the age of 16.
Mr Hankinson said the "day-to-day coverage" of the trial had brought "tensions into the community" and there were "elements who would seek to use that for their own gain".
"Those that seek to use what's going on in Liverpool to further their racist agenda will be dealt with robustly," he said.
He added he did not want to see the area's "very strong history of community cohesion derailed by a few".
Rochdale council leader Colin Lambert appealed for calm in the area.
He said the protest had been a "genuine move by parents with fears and anxiety" that had been hijacked for other reasons.
He said "the people of Heywood love Heywood and we are a tight united community".
'Shut up shop'
Assistant Chief Constable Terry Sweeney said he understood residents would be concerned by the trouble and police would do all they could to prevent it flaring up again.
"We will maintain and increase police presence in the coming weeks to keep up our reassurance. We ask that the community acts responsibly during this difficult time," he said.
He added the police were monitoring social media sites.
Zeeshan Khokhar, 23, owner of Bits n Pizza, a takeaway in Market Street, said he had been verbally abused but his shop had not been damaged.
Mr Khokhar said "white friends" had gone to his shop to protect him as trouble began in the afternoon.
He said: "It started about 4pm, kids banging on windows. They were shouting, 'why are you still open?'
"The police came and told us to shut up shop. We are just doing business. It's not good, it hurts and we are very worried about what's going to happen."
The Ramadhan Foundation, which is based in Greater Manchester, has condemned the events.
Chief executive Mohammed Shafiq said: "The mindless thugs that attacked [the takeaway] and attacked the police should be ashamed of themselves, furthermore the community must allow the due process of law to be carried out.
"Mob rule or vigilantism is not the way we conduct ourselves in this country."