Moors Murderer Ian Brady to face public hearing in July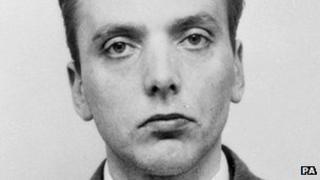 A date has been set for a mental health tribunal into whether Moors Murderer Ian Brady can be returned to prison.
The hearing at Ashworth Hospital will be shown live at the Civil Justice Centre in Manchester, where members of public will be able to watch.
It will begin on 9 July and is estimated to last for eight days.
Brady, 74, jailed in 1966 for the murder of three children buried on Saddleworth Moor, has been detained at Ashworth hospital since 1985.
No members of the public will be admitted to the hearing room at Ashworth.
Judge Robert Atherton said "further consideration" was being given as to whether any members of the media would be given access to the room at the hospital.
It will be only the second time such a case has been held in public.
'Ending his life'
Brady made a request for the review into his imprisonment be held in public in August 2010.
His solicitor Richard Nicholas said Brady, who has been on hunger strike since 1999, believes he "should no longer be detained under the Mental Health Act at Ashworth Hospital".
"He has been on a self-imposed hunger strike with a view to ending his life," Mr Nicholas said.
"Whilst he is subject to the Act, it is possible for him to be subject to a forced feeding regime, hence his wish to be transferred back to prison and away from the powers of compulsory treatment."
Brady, who was born in Glasgow, wants to be transferred to a Scottish prison and be allowed to die.
Along with his partner Myra Hindley, who died in November 2002, Brady was responsible for the murder of five youngsters in the 1960s.
Pauline Reade, 16, John Kilbride, 12, Keith Bennett, 12, Lesley Ann Downey, 10, and Edward Evans, 17, were all killed by Brady and Hindley.
The body of Keith Bennett, who Brady admitted to killing in 1987, has never been found.
'Facing him'
Keith's mother Winnie Johnson, of Longsight, Manchester, said last year she wished to attend Brady's hearing to come "face-to-face" with her son's killer.
Ms Johnson, 78, who has cancer, said: "I want to listen to what he has got to say, if he is going to say anything important.
"I have never seen him face-to-face.
"It would hurt, but the point is I want to be there. The only way I can find out is going and facing him."
Brady was sentenced to life imprisonment in 1966 for the murders of Lesley Ann Downey, Edward Evans and John Kilbride.
He was diagnosed as a psychopath in 1985 and sectioned under the Mental Health Act.
He was transferred from prison to Ashworth, a maximum security hospital, that year.