London 2012: Olympic security dress rehearsal at Old Trafford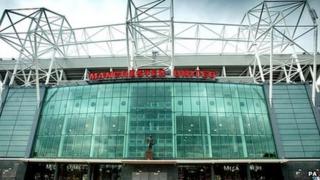 Football fans attending Manchester United's Premier League game against West Bromwich Albion on Sunday were subject to Olympic security levels.
Supporters at the Premier League clash had to empty the contents of their pockets into clear plastic bags.
They also had to undergo body searches by club stewards in an exercise designed to replicate security measures for the 2012 Olympics.
Similar tests will take place at other Olympic football venues.
Manchester United advised fans to arrive early for the game, which they won 2-0.
Old Trafford will host matches on seven different dates during the Games.
Pairs of men's preliminary matches take place there on 26 and 29 July with single preliminary ties on 31 July (women) and 1 August (men).
The ground will then stage a men's quarter-final on 4 August, a women's semi-final on 6 August and a men's semi-final the following day.