Car drives over man lying in road in central Manchester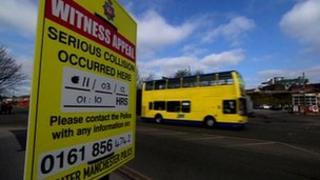 A man suffered life-threatening injuries when a car drove over him as he lay in the road in Manchester.
Greater Manchester Police said the man was injured at 01:10 GMT on Great Ducie Street and the car then continued on to Trinity Way.
The 29-year-old man has serious head injuries and is critically ill.
Traffic officer PC Danny Byrne said: "A man has been left fighting for his life so it is vital that we speak to anyone with knowledge about this incident."
Officers believe the small red hatchback travelled along Great Ducie Street, near to the Manchester Arena, in the direction of the city centre.