Wythenshawe Park music concerts approved by councillors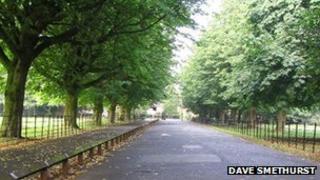 Plans to stage music events for up to 50,000 people in a Manchester park have been approved by councillors.
Manchester City Council passed proposals to use Wythenshawe Park as a venue for three large events a year to generate funds.
Councillors granted the licence for the concerts at a meeting at the town hall.
Local resident groups had opposed the move, expressing worries about the impact the concerts would have on the area.
A council spokeswoman said the licence had been granted with some differences to original proposals.
These included alcohol being banned at all smaller events of up to 5,000 people and only being sold after midday at the larger shows.
Events organisers will be responsible for stewarding the area for an hour after events and a steering committee being set up.
The spokeswoman said it had also been decided that a certain amount of revenue from the events would be reinvested in the park, though the exact amount had yet to be confirmed.
She said the committee would bring together a councillor and a resident of each ward surrounding the park, a member of the Wythenshawe Park working group and a member of the park users' group.
An invitation to join the committee has also been sent to the Wythenshawe headteachers' group.
Once formed, the group will attend a council-run event similar to those planned for Wythenshawe Park to experience the process of putting on shows for themselves.
Wythenshawe Park was established in 1926 and is set in 109 hectares of open parkland.
The public park received the Green Flag Award in 2011 for achieving the national standard for parks and green spaces.