Artist in Manchester Sistine Chapel replica appeal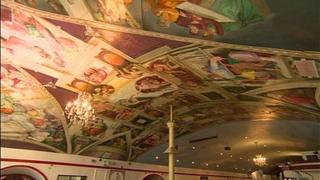 An artist who painted a replica of the Sistine Chapel's ceiling in a Manchester restaurant has said the piece needs a new home.
After two years' work, Michael Browne unveiled the copy of the Michelangelo masterpiece at Cocotoo on Whitworth Street in 1994.
The restaurant has now closed, with the building turning into a bowling alley.
The painting will be taken down panel by panel and put away in storage, unless a new owner can be found.
Michael Browne said when he initially created the ceiling, he thought it would only take four months to complete the 2,000 sq ft (186 sq m) oil painting.
He added: "I need a new home for it in Manchester; it could be a church, it could be a shopping centre.
"I'm very proud of it, it's still a good work of art - good paintings remain good paintings over time."
After the work went on display, the restaurant was visited by the late opera singer Luciano Pavarotti, and the painting received news coverage in the USA and Australia.
The artist, who grew up in Moss Side, is best known for producing large scale Renaissance-style paintings, often with modern celebrities included in the piece.
His depiction of Eric Cantona as Christ in his painting The Art of the Game famously drew criticism from the Church.