Bus firm First fined over lack of punctuality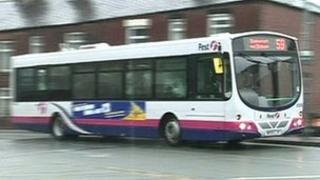 A bus company has been fined £285,000 after being found not to be "reaching the required standard" of punctuality in Greater Manchester.
A public inquiry found First was running 82% of services in the area on time, 13% below the level required.
Traffic commissioner Beverley Bell said First had not reacted quickly enough to time issue warnings in May.
A First spokesman said the company would "reflect on the outcome of today's inquiry" before reacting.
Ms Bell said that she had accepted First had "clearly done a lot" and was "working hard with the local authority and Transport for Greater Manchester" but that it was "just a case of where more needed to be done".
"The main reason I imposed the penalty was because the operator hadn't done enough to make sure these services ran on time," she said.
"This monitoring was over 12 months ago and yet, as at today's date, the operator was still trying to put measures in place and I didn't think that was enough done quickly enough."
Ms Bell said that she had had the option of fining the company up to £500,000 but had decided on £285,000 in view of the work the company had already done in improving services.
She added that it would have been "wholly wrong" to take away First's licence in Greater Manchester.
However, she said she wanted First "to show over the next three to six months that it is operating properly - and if it isn't, it'll have to come back and see me again".
"The message I want to send out [to operators] is make sure you manage your services, make sure you give a good service to the passengers," she said.
"If you don't, they'll vote with their feet and they'll use other forms of transport."