'Covent Garden of North' plan for Manchester's Triangle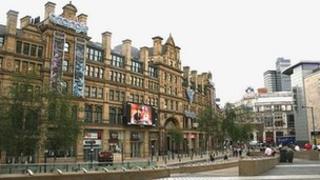 A report into the transformation of a Manchester shopping centre into a "Covent Garden of the North" is being considered by the city's council.
Developers Aviva Investors propose changing the Triangle in Exchange Square into a "modern, exciting shopping experience".
Their plans include returning the building's name to the Corn Exchange and restoring its architecture.
Aviva's Philip Nell said it would "help bring new vitality" to the area.
The plans also include removing metal structures and outdated lighting from the outside of the building and carrying out work on Exchange Square and Hanging Ditch.
Councillor Pat Karney said, once completed, the changes could "attract visitors from far and wide".
He said: "We share the owners' ambitions to restore this magnificent building to its former glory - and of course bring back into use its historic Corn Exchange name.
"At the same time, it will be transformed into a modern, exciting shopping experience that will become known as the Covent Garden of the North."
Bombing damage
The consultation saw 28 local businesses and institutions asked for their comments.
Three responded, with Manchester Cathedral and Chetham's School of Music welcoming the proposals and Resolution Property, the freeholders of the Printworks cinema and restaurant complex, opposing them.
Resolution argued there were already several underperforming food and leisure facilities in the city, including Deansgate Locks and Greater Northern Warehouse.
But the report dismissed these concerns, stating that the new Corn Exchange would offer a "different type and mix" of facilities and be aimed at a "different demographic" to the Printworks.
Originally opened in 1903, the Corn Exchange building was badly damaged in the IRA bombing of 1996 and reopened as the Triangle shopping centre, after extensive internal remodelling.
Dilan Malalgoda, who runs a business in the building, said he welcomed the changes, particularly to the exterior of the building.
"Having half a million people on a Saturday walking past the shopping centre and not getting them in the first place, the main issue is the front entrance.
"I was happy to see what they want to do."