Stockport 'tops growth for new business' in north-west England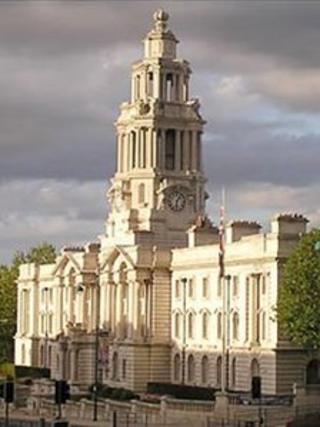 The proportion of new businesses in Stockport has increased more than anywhere else in north-west, BBC commissioned research suggests.
The research, by information analysts Experian, looked at growth and growth potential.
It said start-ups in the town had risen by 10.8% in the past two years, with 2,335 new firms being established.
The figures come weeks after a report which said Stockport had the highest percentage of empty shops in the UK.
The Local Data Company's annual shop vacancy report found more than 30% of Stockport's shops were empty - the highest of any large UK town.
Stockport Council said the statistics did not show a true picture of the town centre.
Speaking about the growth figures, Paul Lawrence, Stockport's Director of Regeneration, said the council's support for new businesses had paid off.
"We have had a comprehensive support programme to anyone who wants to start up a business, and also we have been quite targeted about that," he said.
Public sector losses
"If you are looking at young people we have had a programme for them, and particularly older people, there are lots of older people who want to start up a business and uniquely we have had a targeted approach to that and it seems to have paid dividends."
He said there was a varied range of new businesses in the borough.
"It is unusual for a start-up to be in the retail area but we have had quite a few market traders starting up. Quite often women starting businesses are in the service sector, that could be PR, a range of services like that.
"Obviously the ones that everyone is really keen on are in the technology area and we have an incubator in Reddish that has focused on that kind of sector so it is right across the board."
Dr Brian Sloan, from Greater Manchester Chamber of Commerce, said the rise in people starting new businesses may have been driven by public sector cuts.
"Several possible reasons for that are we have a highly qualified, more affluent population in Stockport, with more professionals setting up as self-employed consultancies," he said.
"They may be setting up their businesses in other areas of Greater Manchester but registering their businesses in Stockport.
"Given the scale of some of the public sector losses that we have seen as well as in the private sector, of business employees that have lost their jobs during and post recession, that might be another factor behind an increase."