Semelia Campbell: Man arrested over gate crush death released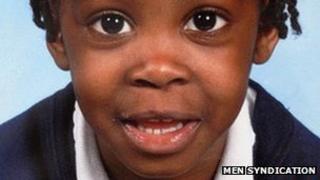 A man arrested after a six-year-old girl was crushed to death by an electric gate in Manchester has been released without charge.
Semelia Campbell died after she became caught in the gates at the entrance to the flats where she lived off Maine Road in Moss Side in June 2010.
Two 39-year-old men were arrested on suspicion of manslaughter by gross negligence and released on bail.
Police said no further action would be taken against one of the men.
The other has been re-bailed until June.
It is understood the two men worked for the contractors who installed the gate.
No-one has been charged over the death.
Semelia had been playing with her friend when she became trapped between the rolling gate and a brick post.
Her mother tried to free her but the gates would not stop moving.
A police officer smashed the motor on the gate to stop it closing further and pulled Semelia out but she went into cardiac arrest.
She was taken to hospital and died a short time later.