Victoria Street closes for Manchester 'piazza' regeneration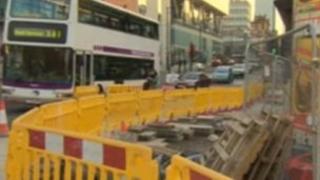 One of Manchester's busiest roads has closed to traffic to allow the building of a piazza by the city's cathedral.
The 275m (300 yard) stretch of Victoria Street, at the entrance to Deansgate, will be closed to motorists for a six-month trial period.
The road closed for a short period in early March, but was reopened as traffic was impacting on roadworks in Chapel Street, Salford.
Motorists are advised to use the inner ring road to get around the city.
The council said the regeneration of the area had been an ambition since the area was wrecked by an IRA bomb blast in 1996.