Inquiry into Manchester council taxi licence prices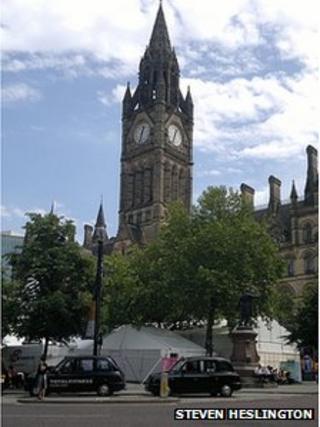 Manchester City Council will be investigated by the Audit Commission over the price of taxi licences.
The probe follows a Greater Manchester Private Hire Association claim that drivers were paying £240 more than those in Liverpool.
MR Black Cabs' Les Reid said he wants the "disparity" in pricing explained, especially as Liverpool drivers got a "far better service".
A council spokesman said licensees were not being "overcharged".
The Audit Commission's Grant Thornton said the body had "received a request to review the council's arrangements for charging for private hire licenses", which he said he was "responding to through the normal course of the audit".
Mr Reid said that licensing a black cab in Manchester cost £410 per year, while "our neighbours in Liverpool pay £170 and get a far better service".
"We need that answering - why is there such a disparity?" he said.
'No issue identified'
Manchester City Council's licence price includes the cost of MOT tests on vehicles, which Liverpool's does not.
The Manchester drivers claim that by law the council can only charge for the cost of administration, but that council accounts showed that costs for catering, car parking permits and security had also been attached.
Derek Brocklehurst, from Manchester Private Hire Association, said drivers needed "a breakdown of the fees line-by-line".
"There needs to be some questions answered about what we're getting, especially in these hard times," he said.
The council spokesman said the claims were "simply wrong" as "neither Hackney nor private hire drivers are overcharged for licensing fees".
"Our accounts are subjected to rigorous external auditing and no issue has been identified with expenditure or income relating to taxi licensing," he said.
He added that the council were "happy to work with the external auditors to demonstrate that there is nothing amiss about our figures".