Gary Parkinson: Wife's bid to bring 'locked-in' coach home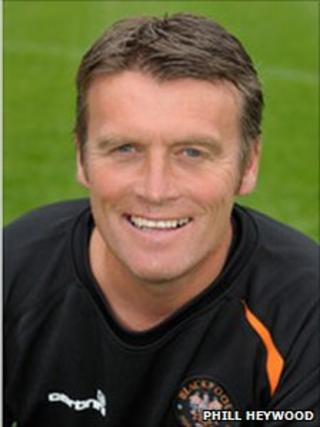 The wife of former professional footballer Gary Parkinson, who suffered a stroke 18 months ago, has said she hopes he will soon be home.
Mr Parkinson was a coach at Blackpool FC when a stroke left him with locked-in syndrome - unable to move, speak or swallow.
The Bolton-based coach's wife, Deborah, said the family was raising funds to adapt their house for him.
His appeal's next fund-raiser will be at Bolton's Reebok Stadium on 21 April.
Mrs Parkinson said: "We want to raise money so we can bring Gary home to give him a better quality of life so he can be with his family."
The family are currently going through the planning process to adapt their home into a place where Mr Parkinson can receive full-time care.
Mrs Parkinson said her husband "was improving day by day, although it is a slow process".
"Nobody can give us either a short-term or long-term prognosis," she added.
Mrs Parkinson communicates with her husband by studying the reactions of his eyes to different letters on an alphabet board.
During his career Mr Parkinson played for Middlesbrough, Preston North End, Burnley and Blackpool.
He was working as a youth team coach at Blackpool when he suffered the stroke in September 2010.