Greater Manchester recorded crime halves over past 10 years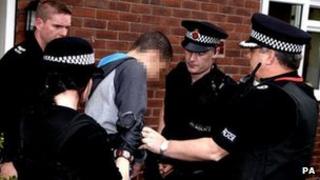 The amount of recorded crime in Greater Manchester has dropped by nearly half in the past 10 years, according to the police's latest crime statistics.
And crime also fell by nearly 10% in the past year, Greater Manchester Police (GMP) said.
Councillor Paul Murphy, local police authority chair, said: "The reality of these figures is that fewer people are becoming victims of crime."
Chief Constable Peter Fahy praised his officers' dedication.
The force's statistics show that between 2002 and 2012 total recorded crime dropped from 383,074 to 207,687 - a 46% reduction.
And between April 2011 and March 2012 there was a 9% drop in total crime, meaning 19,997 fewer recorded victims.
The figures show violent crime down by 18%, car crime by 17% and burglary and robbery down by 14% each.
Mr Fahy said: "This has been a very challenging year for the force but the dedication of our staff and the support of the public has led to this further significant reduction in crime.
"It has come about through strengthening relationships with local people through neighbourhood policing, and work with other agencies."