Campaign to preserve Trafford A&E is launched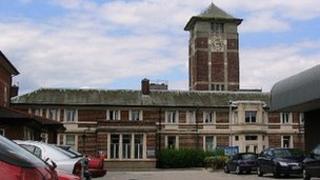 A campaign to preserve Trafford General Hospital's accident and emergency and intensive care units has been launched.
Campaigners say they are worried the units will close following a public consultation by health officials.
Save Trafford General's Matthew Finnegan said their closure would "sound the death knell" for the future of the hospital.
NHS Trafford said no decisions had been made on the future of local services.
Mr Finnegan said: "Patients' lives will be put at risk if Trafford's A&E is closed down.
"Ambulances with 999 patients on board will be forced to drive past Trafford General on their way to Manchester Royal Infirmary or another hospital outside the borough."
A spokesman for the NHS Trafford said: "All aspects of hospital-based provision in the borough are being reviewed to determine how outcomes and access for patients can be improved, while ensuring the money is spent in the most effective way.
"No decisions have been made yet regarding changes to any local health services, including accident and emergency and intensive care."
A public consultation process is planned to take place later this year.