P&O bans 'lewd' Manchester university students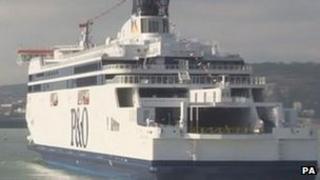 P&O has banned 200 Manchester students after staff and passengers complained about their "wholly unacceptable" drunken behaviour on a ferry to Calais.
Some students exposed themselves while a fight also broke out in a bar on board the £180m Spirit of France ferry on 1 April, the firm said.
The Manchester students, from a number of institutions, were going to Spain.
P&O initially said they had been on a ski trip to the Alps and blamed "crossed wires" for the mistake.
About 1,559 people were on the ferry at the time, including young families.
A P&O spokeswoman said the company had contacted The University of Manchester and Manchester Metropolitan University and their tour operators and would not be providing transport home for the groups.
The spokeswoman added: "The company deplores the behaviour of this group of students, who were clearly drunk before they boarded the ship.
"Customers and staff on board the ship were appalled by the students' aggressive and lewd conduct, which should be stamped out by the authorities."
Correction 10 April 2012: An earlier version of this story wrongly stated that the students had been on a ski trip to the Alps, based on information provided by P&O.