Manchester universities probe drunken ferry fracas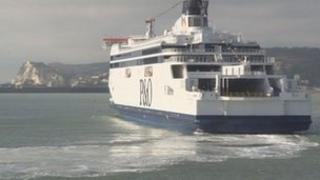 University officials in Manchester are investigating an alleged drunken fracas on a ferry to Calais involving up to 200 students.
Four coachloads of students from the University of Manchester and Manchester Metropolitan University were on board the Spirit of France ferry on 1 April.
Ferry company P&O said some students exposed themselves in the bar where a fight also broke out.
The company refused to bring the students home on the return journey.
The firm, which confirmed it had reported the incident to police in Dover, said about 1,559 people were on the ferry at the time, including young families.
A P&O spokeswoman said they were forced to take all non-university passengers to an area of the ship which was usually an exclusive lounge so they were "out of harm's way".
Festival attendees
She said the students were "clearly drunk" before they boarded the ship and their actions were "wholly unacceptable" as they reportedly smashed glasses and overturned furniture.
A University of Manchester spokesman said that an internal inquiry was under way and added, "We are in dialogue with P&O and we have offered to assist them with identifying anyone from the university involved in criminal activity."
Manchester Metropolitan University also said it was assisting P&O and had started its own investigation into the incident.
The students returned to the UK from Dunkirk last week, on a ferry owned by a different company.
Some reports had said the travelling party were on their way to a ski trip in the Alps but it has now emerged they were en-route to Lloret de Mar in Spain.
The excursion took place during the annual Saloufest in the town of Salou - nearly 100 miles away - which attracts large numbers of party-loving young Britons.