Burned body found in Leigh woods 'suspicious'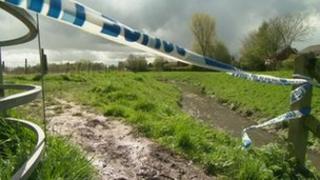 The death of a man whose body was found badly burned in woods in Greater Manchester is being treated as suspicious, police have said.
The man was discovered in woods behind Pennington Road in Leigh just before 15:00 BST on Sunday.
A post-mortem examination is taking place to try to establish how he died.
Supt Julian Snowball, from Greater Manchester Police, said it was too early to say whether the man had been murdered.
He said the area where the body was found was near a public footpath in wasteland where old fires had been lit.
It was a place where people would sometimes go to drink or sleep rough, he added.
Supt Snowball said: "It is not a murder inquiry at this moment in time.
"Clearly we have got the body of a burnt male being found on wasteland which is clearly suspicious and we are investigating the circumstances of that, but it is far too early to say this is a murder investigation.
"If you do use that area, please come forward, contact the incident room or local officers and help us build up a picture of how long the body has been there."
Supt Snowball said police were attempting to identify the man by "non-visual means" due to the extent of the burns.
Anyone with information is being urged to contact police or Crimestoppers.