Gang responsible for 'cowardly' muggings jailed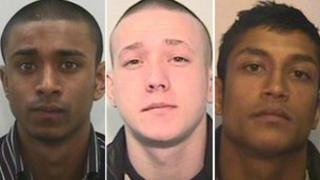 A gang of robbers who committed five "cowardly" and violent muggings in the space of an hour has been jailed.
The gang targeted five people in Ashton-under-Lyne, Greater Manchester, on the night of 24 August 2011.
Daniel Goff, 28, Anwar Hussain, 19 and Khamran Uddin, 18, all pleaded guilty to robbery and possessing an offensive weapon at Minshull Street Crown Court.
Yunus Ali, 17, was found guilty of three counts of robbery and one of possessing an offensive weapon.
Hussain, of Windermere Road in Ashton-under-Lyne, and Uddin, of Richmond Street in Ashton-under-Lyne, were both sentenced to four years in prison.
Goff, of Kirkstone Road, Hyde, was jailed for 20 months. Ali, of Rutland Street, Hyde, received a 24-month detention and training order.
Knife attack
Police said the four knocked their first victim, a 56-year-old man, unconscious outside a pub on Kings Road in Ashton-under-Lyne before stealing a diamond ring off his finger.
They then attacked a 40-year-old man on nearby Connery Crescent, kicking and punching him in the head and body before making off with his keys, mobile phone and a small amount of cash.
Finally, they confronted a group of three friends on Guide Lane in Audenshaw, one of whom had a knife put to his throat while another was punched in the eye.
The gang threatened all three and demanded they hand over their mobile phones and cash.
When officers attended that robbery, they noticed a car which matched the description given by one of those attacked passing the scene.
'Without a care'
As a result, the gang was caught outside a fast food restaurant in Ashton-under-Lyne, after officers spotted the car in the outlet's car park.
The four had been caught on the restaurant's CCTV ordering food shortly after the third attack.
Speaking after sentencing, Det Con Michelle Lomas said the group had "clearly got a kick from violently robbing people in the street, and wouldn't stop at just one victim".
"The manner of their offending was cowardly, attacking their victims with weapons, without them having the chance to defend themselves," she said.
"All of these victims were people who had been out and these offenders thought they would get away with stopping them in their tracks, just to steal cash and mobile phones.
"Their arrogance was clear for us to see when we found CCTV footage of them calmly ordering food in McDonald's without a care for the victims they left behind."