Bolton's Chris Eagles banned from driving for speeding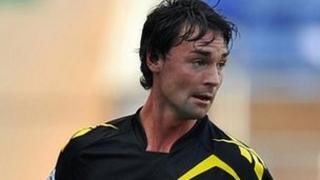 A Premier League footballer caught using his phone while speeding has been banned from driving for 12 months.
Bolton Wanderers' Chris Eagles, 26, was caught driving his Bentley Continental at 60mph in a 40mph zone in Manchester in June 2011.
The winger, who lives in Bowdon, Greater Manchester, pleaded guilty to speeding and using his phone while driving.
He was given seven penalty points and fined at Manchester Magistrates' Court.
Alan Richardson, prosecuting, told the court that when the incident happened, Eagles had already got seven points on his licence for driving without insurance in 2009.
With the addition of the seven points for speeding and using his phone while driving, Eagles was automatically disqualified.
The footballer did not attend the hearing, but sent a letter via his solicitors which said he agreed to be disqualified from driving in his absence.
He was also fined £265 for speeding and £100 for using his mobile while driving and ordered to pay a victim surcharge of £15 and £390 court costs.