Ashton-Under-Lyne bypass 'has cut trade by 75%'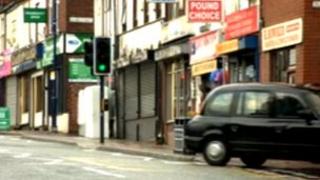 Traders in Tameside say a new bypass in Ashton-Under-Lyne has cut their business by 75%.
Businesses along Penny Meadow claim the bypass has stopped cars coming down the street and reduced the number of pedestrians.
The completion of the £15m bypass aimed to reduce congestion in the town centre and help attract shoppers.
Tameside Council says the street is still open to buses and cars and it has also built 15 parking bays.
Traders from about 40 businesses claim closing the street to through traffic has had an adverse effect on their takings.
"Hardly anybody is coming down Penny Meadow since the bypass," said Sameer Khan, owner of Laptop SOS.
Mr Khan said traders want part of the street that is closed off to cars to be reopened.
'Wasn't interested'
"If they open it, cars can come back - a bypass is supposed to give people a choice of routes," he said
Hairdresser John Castellano said he had spoken to council officials on three different occasions and was disappointed with the result.
"One even came to my shop to speak to me, everything I put forward he wasn't interested."
A Tameside Council statement said Penny Meadow remained open for both bus and car users.
It said: "The council has recently provided 14 short-stay parking bays along Penny Meadow - an improvement on the previous situation.
"There is also nearby car parking available at Wimpole Street and Old Cross Street.
"The council has not been officially contacted by the Penny Meadow traders about their concerns over the impact of the bypass on their trade.
"We are keen to support all local businesses and happy to discuss their concerns."