Salford mayor candidate Paul Massey 'not a criminal'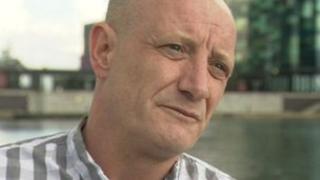 A candidate to become mayor of Salford, who has been arrested in a money laundering investigation, has said he is not involved in criminality.
Paul Massey was one of five men who, along with a woman, were arrested by Greater Manchester Police in December.
A spokesman said the arrests were part of a police investigation which started in 2011 into Salford-based security business 21st Security.
Mr Massey said the police had "no evidence" against him.
He said that he would be "very stupid" to be involved with anything criminal while he was running for mayor.
"I'm definitely not into money laundering," he said.
He added the police possessed "no evidence to have me in that interview room and no evidence to come and kick my door off".
"I'm into no criminality at all and I'd be very stupid to be doing that while I've come forward for the mayor's job," he added.
Mr Massey, who is standing as an independent candidate, is one of 10 people in the running to become Salford's first directly-elected mayor.
Voting in the Salford mayoral election takes place on Thursday 3 May.
A full list of