Titanic survivor's tale lives on in Manchester deli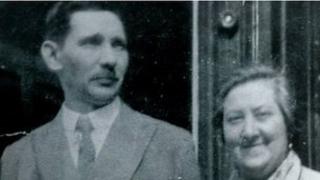 The last survivor of the Titanic disaster died in 2009, but the legend of another is alive and well and still prospering in Manchester after almost a century.
J A Hyman's delicatessen in Cheetham Hill is known to everyone locally as "Titanics" - a reminder of the tragedy that claimed more than 1,500 lives.
The story began in Russia in the early 20th Century. Hundreds of thousands of Jews were fleeing pogroms and poverty, all heading west to a new life in the USA.
One of those who scrimped enough together for a ticket was Joseph Abraham Hyman.
Mr Hyman sailed from Germany in early 1912 but found himself dumped in Glasgow by an unscrupulous captain who told him he had reached New York.
"It was apparently a common scam at the time," said his great grandson Richard Hyman, who still runs the shop.
"Once he'd realised that the accents were Glaswegian and not New York, he saved up enough to get down to Southampton and get a berth on the Titanic."
'People screaming'
His ticket in third class steerage cost him £7 and 17 shillings.
Aged 34, he found himself packed into steerage with more than 1,000 of the poorer passengers, the vast majority of whom were emigrants all dreaming of new opportunities in America.
Two days into the voyage all that hope and optimism turned into panic, terror and for the majority, death.
But not Joseph Hyman. He ended up in Collapsible Lifeboat C - one of the last to leave the ship.
"My family tell me he never talked about the sinking," said Richard.
"He was traumatised by the experience and silence was his way of dealing with it.
"You can imagine the horror of it, getting into this little canvas-sided boat, freezing cold, people screaming in the water and, this huge ship going down.
"The thing that really gave him nightmares was the total silence after the ship went down.
"He found that hard to deal with and would wake up screaming at night remembering it."
Mr Hyman had a notable companion his lifeboat - J. Bruce Ismay, the owner of the White Star Line.
Mr Ismay was widely condemned afterwards for taking a place in the lifeboats but there are claims that he was ordered in to row the boat - presumably alongside Mr Hyman - because all the others in the boat were women and not able to handle the heavy oars.
So, as the ship went down, one of the poorest men on the ship found himself rowing frantically for his life alongside one of the richest.
Titanic celebrity
Mr Hyman's survival is remarkable.
Only a quarter of all the third class passengers survived and among the men the percentage of casualties was even higher.
After being picked up by the Carpathia, he ended up where he had wanted to be - New York.
But he did not settle and he was brought to Manchester by relatives who settled here.
Family legend is that he was so terrified of getting on board a ship again that he had to drink himself into a state of insensibility to manage it.
Once in the city, he needed to make a living and hit on the idea of a delicatessen, just like the ones he had seen in New York.
And the rest is history.
"For years afterwards my great grandfather would be pointed at in the street as the man who'd survived the Titanic - he was a real celebrity, even though he would never talk about it," said Mr Hyman.
"In the end, the shop just became known as 'Titanics' and its stayed that way ever since."
His great grandfather died in 1956 but his deli on Waterloo Road has sailed on into its fourth generation of Hymans and its second century.
"I feel proud to be part of the Titanic dynasty of survivors," said Mr Hyman.
"I even made use of it myself - my school headmaster was always impressed by the fact that I was related to a man who's been on the Titanic.
"It's a great legacy.
"My dad said it was a bit like a Patek Philippe watch - something you keep hold of and treasure for the next generation."