Henshaws Society for Blind People gets exhibition grant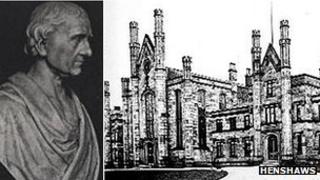 A charity for blind people has been given a £30,000 Heritage Lottery Fund (HLF) grant towards its 175th anniversary celebrations.
Henshaws Society for Blind People will put on a "multi-sensory" show at Gallery Oldham later in the year.
Henshaws works with people in in Greater Manchester, Merseyside, Newcastle and North Yorkshire.
HLF's Sara Hilton said the exhibition would "offer an insight into the history of visual impairment".
The charity's work began in 1837 with the opening of an "Asylum for the Indigent Blind" in Old Trafford, paid for by a £20,000 bequest from Oldham businessman Thomas Henshaw.
He had died in 1810, but the founding of the organisation was delayed due to legal issues around the legitimacy of his will.
A spokeswoman said Henshaws had decided to hold the show after "the discovery of a tea chest with artefacts and objects pertaining to the legacy of the charity".
"The team at Henshaws wanted to share the history and interesting stories found in an all sensory exhibition," she said.
She said the exhibition would "trace the story surrounding Thomas Henshaw's legacy and the rich history of Henshaws" and include newly commissioned artworks, as well as "fascinating stories from people who have been part of Henshaws throughout the years".
The date of the exhibition has yet to be decided but the spokeswoman said it would take place in late 2012.
Henshaws works with people across the North of England, running a further education college for students with learning difficulties and disabilities in Harrogate and an arts and crafts centre providing vocational training to people with disabilities in Knaresborough alongside its community work.