Bury mother who hid dead baby in garden is spared jail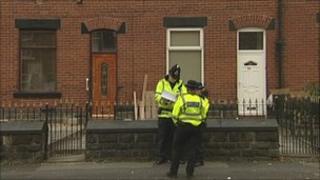 A mother from Bury who admitted trying to hide her dead baby in a garden has received a suspended jail term.
Fatima Ali, 26, admitted cruelty to a person under 16 and endeavouring to conceal the birth of a child, at Bolton Crown Court in February.
The baby girl's body was found wrapped in a shawl outside a house in Bury on 6 September 2010. The court heard Ali intended to keep the birth secret.
Ali, of Alfred Street, was given a 26-week sentence, suspended for two years.
The court heard the baby girl, which Ali had kept secret from family and friends, had died within two hours of her cutting the umbilical cord in her bedroom.
A post-mortem examination could not determine the cause of death.
Stress and trauma
The shop manager then left the body in the house to go out with her family before she disposed of it in Tinline Street on the way to work the following morning.
The court was told she had been seeking to "keep it secret forever".
The charge of cruelty, which she admitted in February, related to Ali not seeking prompt medical attention when the baby was born.
Sentencing Ali, Judge John Appleby said the tragedy had been "of immense disaster for this child".
"She died within two hours of her birth and had you acted appropriately her life could have been saved," he said.
"There is no evidence that you ill-treated or assaulted the child and it is still a mystery perhaps as to the course of action you took following her birth."
He said Ali had suffered from "psychological stress and trauma for a number of years" and that her "decision making and thought processes would have been compromised" at the time of the offence.
Familial dishonour
Ch Supt Jon Rush described the case as "tragic" which "impacted on the local Asian community in East Bury".
He said the investigation had been carried out with "great sensitivity".
Mr Rush said: "There is no doubt that Fatima could not speak openly about her pregnancy with her family and friends. Ultimately she gave birth on her own without the necessary medical or mutual support.
Nazir Afzal, chief crown prosecutor for the North West, said: "Fatima Ali sought no medical assistance leading up to or following the birth of the baby at home, despite evidence that she had access to two working mobile phones at the time.
"She then attempted to conceal the baby's body outside her friend's front garden the next morning before going to work as normal.
"Whatever the community or familial dishonour or shame, real or perceived, that Ali may have felt, it did not justify the tragic death of the most vulnerable victim, a new born baby."