Manchester considers tram-train technology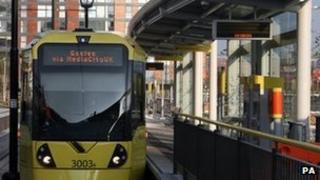 Plans to run trams on railway lines in parts of Greater Manchester are being discussed by transport bosses.
Using the new tram-train technology is an option being considered by Metrolink operator Transport for Greater Manchester (TFGM).
It would mean continental-style carriages would operate on both tram tracks and existing railways.
TFGM said the tram-train model would be explored in more depth over the next 12 months.
It said the technology could offer improved services and choices for passengers but stressed plans were in the early stages.
Several routes may be considered for further development, including the line between Manchester Piccadilly and Marple, but a spokesman for TFGM said more detailed analysis is required.
Sheffield is currently hoping to become the first UK city to use the tram-train technology.
South Yorkshire Passenger Transport Executive, Northern Rail and Network Rail were granted £150,000 last year to work on the project.
If plans go ahead, vehicles could be operating on tram tracks and railway lines between Sheffield and Rotherham from 2014.
The idea is to cut journey times and make it easier for people to get into city centres, reducing car commutes.