Woman abused and raped by two men in Stockport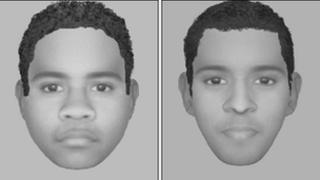 A 27-year-old woman was attacked by two men and raped by one of them in her Stockport home.
The woman was approached by the men in a car as she walked on Edgeley Road, next to Alexander Park, in the early hours of 14 April.
She invited them back to her house, but half an hour later asked them to leave. The men then became verbally abusive and one of them raped her.
Both men then got back in their black Punto car and drove off.
Greater Manchester Police said the woman went through a "horrific ordeal".
The force has released e-fits of the men in an attempt to trace them.
Both men are described as Asian with light skin.
One was about 5ft 8in (1.7m) and slim, in his late 20s with black hair.
He spoke with a strong Manchester accent and wore a black Nike tracksuit, black trainers with silver lines and had strongly defined eyebrows.
He was driving the car and was referred to as "Mani".
The other man had a large build, was about 5ft 6in (1.6m) and was slightly younger. He wore a black T-shirt and baggy blue jeans with black work boots.
Det Sgt Jay Beeken said: "This was a horrific ordeal that the victim has been put through.
"The men were in her home and were asked to leave and then events took a much more sinister turn.
"She was verbally abused, physically assaulted and then raped by one of the men before they both left in their car.
"She has been supported by officers and has managed to give us a very detailed description of both men, enabling us to produce good quality e-fits.
"I now want people to take a good look at the images and let us know if you recognise them."
Anyone with information is urged to contact police.