Melvyn Edwards jailed for 16 years for killing wife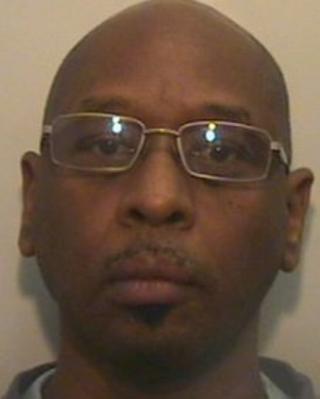 A man from Manchester has been jailed for 16 years for killing his wife.
Melvyn Edwards, 59, of Great Western Street, Moss Side, was convicted at Manchester Crown Court of the manslaughter of Juliet Edwards, 48, in July last year.
A post-mortem examination revealed she had died from a single stab wound to the neck.
Her husband, who was living separately from his wife at the time, was also found guilty of two counts of rape.
Emergency services had been called to the house at about 04:10 BST on Saturday 23 July 2011, following reports a 48-year-old woman had a serious injury.
Police said when officers arrived, Edwards was leaning over his wife tending to her. She was taken to hospital but died a short time later.
Edwards claimed that he had noticed a light on in Mrs Edwards's home as he walked home from a party.
He told police that he thought this was unusual and used his key to let himself into the house, where he found Mrs Edwards injured on the floor.
Edwards was originally arrested on suspicion of assault but was later arrested and charged with murder.
Following medical examinations of Mrs Edwards's body, he was subsequently charged with rape.
It later emerged that Mrs Edwards had told family members of a number of domestic violence incidents and that Edwards had raped her in May 2011.
In a statement, Mrs Edwards's family said: "No sentence in the world could ever give us back our mother.
"The sentence of 16 years passed today is of no comfort to us and we are simply left numb.
"It does however provide some form of closure for us, her children, and the rest of the family in so far as everyone now knows the truth of what Melvyn Edwards did to our mother.
"We can now finally allow our mum to rest in peace."
Det Ch Insp Joanne Rawlinson said it was a "very sad and tragic case".