Funeral of Jack Stanley takes place in Littleborough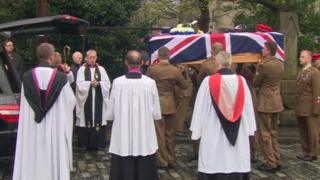 The funeral of a British soldier who died more than two months after being injured in Afghanistan has been held in Greater Manchester.
Cpl Jack Stanley died on 8 April at Queen Elizabeth Hospital in Birmingham.
The 26-year-old Queen's Royal Hussars' soldier, from Bolton, was wounded in a blast caused by a bomb on 3 February.
Cpl Stanley's funeral service was held at Holy Trinity Church in Littleborough, near Rochdale.
Hundreds of mourners attended the service, some wearing the colours of his favourite football team Bolton Wanderers.
'Doing his job'
The Ministry of Defence called him an "exemplary" and "enormously popular" soldier.
Cpl Stanley's officer commanding, Maj Alex Carter said: "Jack disliked the terms hero and brave.
"He would say he was just doing his job, a sentiment echoed by other injured soldiers often forgotten who now face a life of disabilities, both mental and physical."
When fatally injured, Cpl Stanley was serving as a section commander with C Company, Queen's Royal Hussars' Battle Group in Lashkar Gah.
Cpl Stanley joined the Army in 2003 and had also served in Iraq twice.
The Reverend John McGrath, who led the service at Holy Trinity Church, said: "The military are held in high regard here, not just in remembrance of those who have died in previous wars but obviously Jack and others who have made it plain [to see] that the sacrifice still goes on."