Tameside Hospital opens new A&E department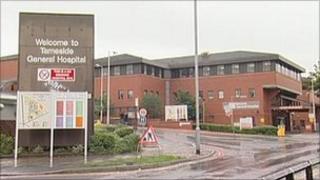 A new emergency department has opened at a Greater Manchester hospital following a major refurbishment.
Tameside Hospital A&E underwent a £3m revamp to create "a larger, modernised, spacious" department.
The hospital has also introduced car parking charges for disabled drivers to keep in line with the Tameside Borough Council Blue Badge parking scheme.
Tameside Hospital's Gillian Parker said the trust had reviewed charges for all car parking.
Ms Parker added: "The hospital has looked at the way in which Tameside Borough Council has introduced blue badge charges; in allowing extra time for those who are disabled to get in and out of their cars, we are giving blue badge holders an additional hour of parking time at no extra cost."
The A&E department, expected to treat over 75,500 patients a year, now has a children's A&E and separate areas for minor and major accidents.
Nurse manager Karan Shingler said: "It is a marvellous new facility which the people of Tameside should be proud of."
The building now has 32 larger treatment areas and an extended resuscitation area.
Ms Shingler added: "This has been a very complex and challenging project and we are delighted with the final results."