Manchester Airport body scanners are safe, says EC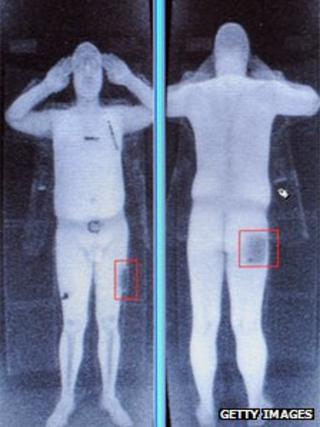 Passenger body scanners at Manchester Airport are safe, according to a report by the European Commission (EC).
The EC stopped new trials of the scanners in November while concerns they could emit harmful levels of radiation were investigated.
Manchester Airport, which has been trialling them since 2009, continued using them while the tests were carried out.
An airport spokesman said it expected them to be approved for permanent use.
The machines use a low dose of x-rays to scan through clothing, producing "naked" images of passengers to identify if they have concealed items.
The report concluded the radiation doses to passengers "were very low compared with other sources" such as the cosmic radiation received during the flight, even for frequent flyers.
The UK Health Protection Agency had already said that the scanners posed a "negligible" risk to health.
A spokesman for Manchester Airport, which was the only airport in Europe still using the scanners during the study, said: "As we expected, [the report] confirmed that back scatter body scanners are safe which is the same conclusion as expert studies already carried out by the UK Health Protection Agency and its US equivalents.
"We expect that the European Commission will now approve them for permanent deployment in aviation security."