Sir Chris Hoy's Manchester Olympic Torch date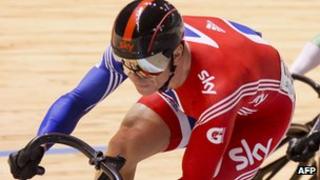 Olympic gold medal-winning track cyclist Sir Chris Hoy will carry the Olympic flame in Manchester on 23 June.
The four-time Olympic track champion tweeted: "V. excited to have been selected as an Olympic Torchbearer by Lloyds TSB.
"I'll be in Manchester June 23. Hope to see you there!"
Last year Sir Chris nominated Manchester-based former national cycling coach Geoff Cooke to be a London 2012 torch relay runner.
Sir Chris, 36, who won three gold medals in Beijing, will be carrying the torch in the city where he trained for the 2008 Games.
The Olympic flame was lit earlier in a ceremony at Olympia, in Greece.
It will be flown to the UK on 18 May, landing at the Royal Navy airbase at Culdrose, near Helston in Cornwall, for a 70-day relay around the country.
Three times Olympic gold medal-winning sailor Ben Ainslie will be the first person to carry the torch on British soil in Land's End the next day.