Premier League: City win title after 44-year wait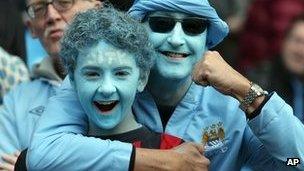 Manchester City fans are celebrating after their team pipped rivals United to the Premier League title after a 44-year wait.
The win mirrors the campaign in 1968 when City last topped the league - with United finishing second.
Sir Richard Leese, leader of Manchester City Council, said it had been "a nail-biting finish to the season".
He announced there would be a victory parade in the city on Monday evening so fans could enjoy the "historic moment".
"The council stood ready to support a parade whichever club triumphed," he said.
"This parade is an opportunity for Man City fans, who have experienced countless ups and downs over the years, to celebrate a resounding success."
More than 46,000 people saw City clinch the title in injury time at the Etihad Stadium.
Among them was Brian Channon, 37, from Swinton.
He said: "We've got here through guts and determination. I thought when we were eight points behind United it was all over."
Their 3-2 win against Queen's Park Rangers was enough, with the celebrations starting with a pitch invasion from some fans.
But just a few weeks ago City looked to be out of the Premier League race, trailing eight points behind United.
They hauled their rivals back and after a recent 1-0 derby win against United, they became favourites to take the title.
United's 1-0 away win at Sunderland proved not quite enough to retain the trophy.
Clare Howarth from Marple, who has been a City fan for 40 years, was at the match with her six-year-old daughter Leah and two-year-old-son Callum.
She said: "I've seen an unbelievable change in the past three years. It has been a fairy tale.
"It's my son Callum's first game. He had open heart surgery seven weeks ago. He's defied all the doctors and it makes today even more special."
Over the years City have been mocked by United fans, who, until City's FA Cup win last year, had documented their wait for a trophy with a banner at Old Trafford's Stretford End.
Alan Williamson, 57, from Wythenshaw, said: "I saw them win it last time, it was a fantastic day.
"As fans we really have been through the mill in the past decade. It's nice to see things are finally happening for us. Long may it continue."
Lesley Swindell, 62, from Sale, also saw City win the league 44 years ago.
"It was wonderful, very similar to today actually," she said. "It was all about attacking then like now. I was quite nervous today. We are City fans and we're not used to all this."
Nick Cook, from Manchester, agrees. He said: "I've been an utter mess since the Derby game, a proper nightmare. I couldn't wait for today to be over really.
"This is great though, it's unchartered territory for me. It's unbelievable to be in this position now. I thought it was all over after the Arsenal game."
Dom Broadhurst, from Chorlton, was born in 1967, the season when City last won the title.
At the final whistle, he joined thousands of other jubilant fans on the pitch to celebrate.
"It was just incredible. I couldn't believe it," he said. "There were grown men crying.
"At 2-1 down, it was like the old City. At 3-2 up, it was the new City. That's it in a nutshell."
Related Internet Links
The BBC is not responsible for the content of external sites.